Ar mo bhealach ar ais ó Loch Garman go Chorcaigh maidin dé Luan seo caite, chaith mé an t-am ag éisteacht le cupla eipeasóidí Motherfoclóir, an podchraoladh a bhaineann leis an cuntas Twitter @TheIrishFor. (Má tá suim agat san Ghaeilge nó i gcúrsaí teanga go ginirealta agus mura leanaíonn tú @TheIrishFor, ba chóir duit é a dhéanamh láithreach.) Bhí mo chuid mothúcháin meascaithe agus mé ag éisteacht le na podchraolta. Bíonn an taithí céanna agam go minic agus meain sosialta na Gaeilge á léamh nó á úsáid agam. Ar taobh amháin, cuireann sé an-áthas orm daoine óga a fheiscint ag úsáid (nó ag caint faoi i gcás @TheIrishFor) an Ghaeilge i slí atá éirimiúil agus oideasach ach, ag an am céanna, greannmhar agus nádúrtha. Ach, fite fuaite leis an t-áthas, bíonn saghas brón orm freisin, mar cé go bhfuil an-suim agam san Ghaeilge, ní féidir liom í a labhairt go líofa, agus nílim compórdach leis an fíric sin.
Orm féin atá cuid mór den locht. Bhí múinteoirí maith agam, a cur béim ar an teanga beo agus an ghnáthcómhrá chómh maith le cúrsaí litríocht, scríbhneoireacht agus araile. Bhain mé sult as an Ghaeilge ar scoil, agus d'éirgh go maith liom san árdteist, agus san scrúdú béil ach go háirithe. Rinne mé cúpla cúrsaí in Ionad na Gaeilge Labhartha UCC, agus arís, bhí múinteoirí den scoth agam. Éistím le Raidio na Gaeltachta, breathnaím ar TG4 (caithfidh mé a adhmháil go bhfuilim gafa le Ros na Rún). Tá stór focal agus tuiscint cuíosach maith agam.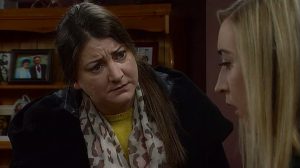 Ach "beatha teanga í a labhairt" agus ní labhraím Gaeilge go rialta. Níl an iomarca cairde agam atá Gaeilge acu agus bíonn cotadh orm ag caint le strainséiri fiu i mBéarla. Fiú i rang Gaeilge, is deacair dom bheith ag cómhra le daoine. Bíonn náire orm. Taobh amuigh den seomra ranga, bíonn cúrsaí níos measa fós, mar bíonn fhios agam go bhfuil botúin á dhéanamh agam i beagnach gach aon abairt agus cuireann sé sin isteach go mór orm. Bíonn mo chuid Béarla an-cruinn ar fad, idir labhairt agus scribhneoireacht. Ach as Gaeilge, ní mar an gcéanna atá an scéal ar chor ar bith. caithidh mé rogha a dhéanamh idir líofact agus cruinneas. Is féidir liom bheith ag caint cuíosach ar mo shuaimhneas (le deoch nó dó ionam ach go háirithe J), nó is féidir liom roinnt bheag cruinneas a fháil amach trí mo chuid ama a ghlacadh agus dianúsáid a bhaint as an foclóir (táim thar a bheith buíochasach as foclóir.ie agus teanglann.ie!!). Dár ndoigh, nílim in ann an dá rud a dhéanamh ag an am céanna.
Ach, nach cuma? Níl Gaeilge líofa agam. Ní coir é. Ba chor dom socraidh síos. B'fhéidir go bhfuil buntaiste ag baint leis an meon sin ach tá sé deacair domsa an leagan sin a cur ar an scéal. Níl ach teanga í, is fíor sin. Ní teanga speisialta cosúil leis, abair, an módh ina úsáidtear Laidin san Eaglais Caitliceach, mar teanga na deasghnáth, ach ghnáththeanga, a usáidtear gach lá le haghaidh obair agus caidreamh agus rudaí leadránach a dhéanamh. Is fíor é nach bhfuil ach teanga í … ach, fós, is teanga í, agus seanteanga, le taisce mór litríocht, miotaiseolaíocht agus béaloideas. Agus, i slí éigin, is mo theanga í cé nár togadh mé léí. Is Éireannach mé, agus is í an Ghaeilge príomhteanga na hÉireann. Agus b'fhéidir go bhfuil tírghrá dall, ach i mo thuairim is teanga álainn í. Toisc go bhfuil roinnt Gaeilge agam, is féidir liom an méid atá caillte agam a fheiceáil. Tír gan teanga, tír gan anam – agus más rud é gur Éireannach gan Gaeilge thú, b'fhéidir go bhfuil cuid de d'anam saghas as usáid. Tá tú i dteidil oidhreacht saibhir na Gaeilge mar Éireannach, ach níl tú in ann é a ghlacadh chugat féin. Níl fhios agam. B'fhéidir gur ráiméis rómánsuil é seo. Ach b'fhéidir nach bhfuil mé i m'aonar. B'fhéidir go mbaineann saghas tráma leis an Gaeilge in intinn chuid suntasach de muintir na tíre, tráma an Ghorta Mór, tráma an chóilíneachais. Níl ormsa atá an locht go léir gur teip orm Gaeilge líofa a fháil amach. "It seems history is to blame." ("History" … nó "the Brits" más maith leat.)
Léigh mé áit éigin go glacann sé céad bliain chun cogadh cathartha a chur thar daonra tír. Táimid thart ar céad bliain ó tús an Gaelic Revival agus Eírí Amach na Cásca, agus, i mo thuarim, tá comhartha dóchasach ann don Ghaeilge. Is í Bliain na Gaeilge í 2018.  Ní chómhtharlú é sin. Tá tráth an bhróin thart, agus is féidir linn caidreamh nua a dhéanamh leis ár teanga dúchais. Tá an óige chun tosaigh: Tá glúin ann anois, dream na Pop-Up Gaeltachta agus slua eile, atá ag úsáid an Ghaeilge i slite atá fite fuaite lena meain soisialta, go h-iomlán chómhaimsirthe ach síoraí. Tá na daoine seo ag léiriú conas an Ghaeilge a chothú ní amháin i measc cainteoirí líofa ach i measc an pobal mór fosta. Caitheann siad a saol as Gaeilge, mar tá grá acu don Ghaeilge. Mar a deireann Rose i The Last Jedi, "We're going to win this war not by fighting what we hate, but saving what we love." B'fhéidir nach bhfuil grá ag gach Éireannach ar an Ghaeilge ("b'fhéidir nach bhfuil?" says you!), ach tá grá ag an chuid is mó dúinn ar an craic, an greann. Tá neart craic, greann agus níos mó ag baint le na meain sosialta #asGaeilge agus leis an Ghaeilge í féin. Is féidir le beagnach gach duine é sin a thuiscint, agus tugann sé deis dúinn ár féiniúlacht náisiúnta a feabhsú agus, más maith linn, is féidir linn áit lárnach a thabhairt don Ghaeilge.
Ba mhaith liom páirt a ghlacadh san athbheochan seo. I mbliana, mar rún na bliana úire, cinnim go labhróidh mé an Ghaeilge níos minic, agus tá súil agam go ndearna daoine eile cosúil liom an rud céanna. Ba chor dúinn, na breacGaeilgeoirí, na Gaeilgeoirí leathoilte, ár ndícheall a dhéanamh. Níl sé ceart an obair ar fad a fhágáil dona cainteoirí líofa ina gcónaí san Ghaeltacht, nó do locht na hollscoileanna, nó do na múinteoirí, nó don rialtas, cé go bhfuil obair tábhachtach le déanamh acu freisin. Má tá teanga beo ag teastáil uainn, caithimid go léir ár bpáirt féin a glacadh. Agus ba chor dom é a dhéanamh ar son an fáth is Éireannach riamh: Píosa craic a bheidh ann.  Craic, agus cinnte bhotúin agus tostanna míchompórdach agus frustrachas agus míthuiscint. . Is teangá mór í an Ghaeilge; tá neart spás inti  don saol mór, idir craic agus brón. Déanfiadh mé mo dhícheall í a labhairt go minic i mbliana. Mar a dúirt mé ar Twitter cúpla mí ó shin, "Is fearr Gaeilge briste ná post-colonial passive aggressive self-loathing." Agus dá dhéanfainn botúin, lochtaigh na Brits.